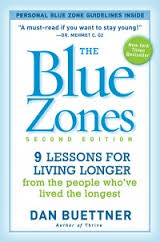 One of my favorite TED Talks was given by Dan Buettner, best-selling author of The Blue Zones. The Blue Zones are geographic regions where there are high percentages of active, healthy centenarians.

The Blue Zones outlines nine factors that lead to a long, healthy, happy life:
Move Naturally – The world's longest-lived people don't lift weights or run marathons. Instead, their environments require long vigorous walks, or activities like farming and gardening.
Purpose – Why do you wake up in the morning? Knowing your sense of purpose is worth up to seven years of extra life expectancy.
Down Shift – Stress leads to chronic inflammation, which is associated with every major age-related disease. The world's longest-lived people have routines that relieve stress.
80% Rule – The Okinawans say a mantra before meals as a reminder to stop eating when their stomachs are 80 percent full. They don't overeat, which is a problem in America.
Plant Slant – Centenarian diets are mostly plant-based. They typically eat meat only five times per month.
Wine @ 5 – Surprisingly, moderate drinkers outlive non-drinkers, especially if they share those drinks with friends.
Belong – Attending faith-based services four times per month – no matter the denomination – adds up to 14 years of life expectancy.
Loved Ones First – Centenarians put their families first. They commit to a life partner, invest in their children, and keep aging parents and grandparents nearby.
Right Tribe – The world's longest lived people chose or were born into social circles that support healthy behaviors.
For more information, visit The Blue Zones website